The Design Process
We are often contacted by business start ups, who might be new to shoe design, or fashion or design students, who may not be familiar with the footwear design process. We have written this section to help explain the procedure. If you have any questions or comments, please
contact us
.
Meet with Client
We prefer to meet the client first to discuss the project, but this is not always possible because many of our clients are overseas. In this case we communicate by telephone or email. We discuss the requirements: What kind of shoes, where they will be made, which parts of the footwear design process does the client require from us? Every shoe design project is different and we understand that not every client needs us to cover every single part of the process.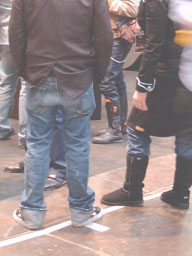 Research
This stage is the most important in our opinion. The research stage varies, depending on the product requirement. Sometimes research is the only stage in a project. The client may require a research project only. Perhaps they would like to receive a report on a shoe trade show, or a report on shoe design at retail.
Research could involve taking photographs of shoes at retail (shop windows), we may be looking at all aspects of the design, or we may be using the photos to research trends in heel shapes, materials, or price points. We may also make sketches. This can be put together into a report format, where we highlight and group the trends so they are easy to understand.
For some projects, research may take place in art galleries, libraries or anywhere else we may wish to find inspiration outside of the footwear design world, to get our creative juices flowing.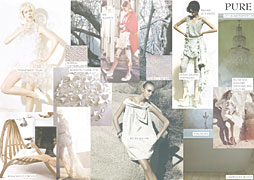 Story Boards
This is a visual representation of a new fashion trend, sometimes called 'Mood Boards' because they describe the 'mood' of a trend. The storyboard is used by the footwear designer to 'set the scene', before they start designing. It is often used by clients to understand a trend, or to explain a trend to a colleague. It can help a client decide the focus of a range of footwear, if it is relevant to their customer before the designer starts to design.
Storyboards are usually made from fashion magazine photos, they may include notes, material swatches, other insirational pictures, sketches or photos. There is usually an element of forecasting involved. We look at current trends, we look at what the opinion formers are doing and wearing, we look at what is happening in the world generally and use this information to predict what might be popular next.
Range Plan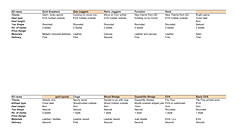 If we are developing a range of shoes for a customer, we generally like to make a range plan before we start to design. This is a plan to work out how many outsoles, styles and colours and what price points we want to achieve. Visual representations are often included, they may be thumbnail (i.e. small) sketches, they could be magazine cuttings of similar product.
The Design Brief
We do not always receive a full design brief from a client, so do not be afraid if you are not quite sure what you require! Some or all of the previous steps in the design process that we have outlined so far, will naturally lead you to the design brief. A design brief would usually describe the customer for the product, are they male, female, age, perhaps the magazines they read, their lifestyle. A description of where the shoes will be sold, perhaps is it a website, or a fashion store for instance. We will need to know the target price for the product, the intended factory, the factory capabilities (if we know at this stage), possibly more specific instructions - i.e. wedge outsole, stiletto heel, round toe, or in the case of sports, the end use of the product.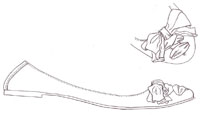 Initial Ideas
We usually start with lots of scribbles and small sketches before we make more elaborate and detailed drawings. This enables us to get our ideas down quickly on paper. We then pick the ideas we think are the strongest and make more detailed hand drawings which are presented to the client for their comments.
Last/Heel/Outsole
Some clients require the entire product to be developed from scratch: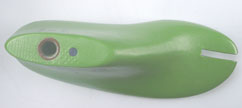 Last development
The last is a plastic, wooden or metal, form. It is the equivalent of the tailors dummy, and almost all shoes are made on a last. The last dictates the toe shape and the heel height. They come in pairs and different sizes and widths, just like feet!
If required we can make sketches and visit a last maker to have a prototype made (carved by hand from wood), alternatively, we can select a shoe already in existence and submit it to a last maker to make a replica which we can then use to develop our own designs.
Heel development
If required we can write full specs for new heel designs. We can also have wooden models made for approval and for the heel mould makers reference, before we make production.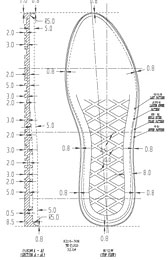 Outsole development
We can write specifications to make pretty much any kind of outsole, in any kind of material. As with heels, we can also have models made for your approval.
CAD
Once we have liased with the client regarding our initial ideas, we then take any comments onboard and make colour (if required) CAD drawings, to give a more realistic representation of the shoe. Some clients (particularly in the value market) require only CADs, perhaps they want a new interpretation of an existing trend, or they need us to make their sketches, ideas and scribbles into something that a factory can easily understand.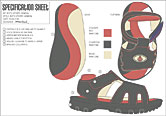 Specifications
Once CAD designs are approved, we write the spec sheet (specification). These are the instructions to the factory to make the shoe. Some clients require us to work on this stage only. Perhaps they have firm ideas of the product they want, they can already provide sketches, or they need an interpretation of product /trends that are already in the market place, but need help in writing the specs for the factory. We sometimes are contacted by inventors who need specifications for their ideas writing in order to file a patent application.

Pattern Cutting
Although we do have an understanding of pattern cutting, we do not provide a pattern cutting service because most factories provide this as part of their service. We can put the client in touch with an expert pattern cutter or coordinate the task with them ourselves, if required.
Briefing In
We can contact the factory sample room on our clients behalf and follow up on all development if requested. We can also visit the factory by arrangement with the client. Sometimes a simple email cover note sent along with the specifications is all that is required. Other factories require much more information than that.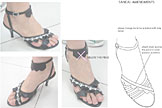 Samples Received/Amendments
Once first prototypes are received we often review them with the client. Some clients prefer us not to be involved after this stage, making any comments and amendments to the factories themselves.
Colourways / Material Combinations

The client may request the shoe to be available in more than one colour or material choice. We generally do this after we have received a prototype that we are happy with. We make several CADs showing these suggestions, the client then chooses and we write specs and order the colourways.

Final Sample
Once we have all the prototypes and we are happy with them, the client is free to order sales samples, place production, etc.
Following Season
The design process does not end at final sample stage. Once the client has experienced sell-in (samples shown to store buyers who then write orders) and sell-through (shoe sells to end consumer), they usually require new versions of the best sellers. This can be a simple colour or material update or a move-on (similar style) for the best seller.